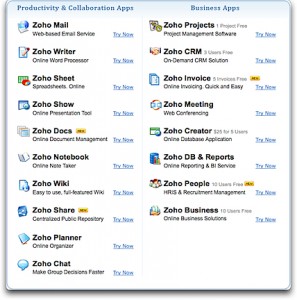 Quite a significant announcement by GM today that it's dropping Google and choosing Zoho to outfit them for all their online productivity needs i.e spreadsheets, word processing, presentations and more. Regardless of their choice the point that stands out is "live collaboration". Think about the number of times you have attached a MS Excel or Word document in an email for others to review or look at. On-line collaboration tools like Zoho and Google Apps mitigates the need to share documents via eMail or any other "manual" form of sharing. In fact there is no "physical" file the user has to deal with. The files are saved somewhere in the "cloud" oblivious to the users and multiple groups of people can work on the same document simultaneously.
The big surprise of-course is why GM chose Zoho over Google? After all Google is the one that pioneered the sharing of productivity tools on-line utilizing the concept of cloud computing.
A GE spokesperson who did not want to be identified said their decision was based around issues of personal and corporate privacy, functionality, support, features and Zoho won hands down. The spokesperson said the Google application was intrusive and the ads started to become a nusiance. I tested both applications today. Google Spreadsheets was a disaster. I have not noticed any major change with it over the past year. However I would encourage you to try both products to get a feel before you choose one.
Well the ads may have been intrusive but IMO at the end of the day it was Zoho's broad portfolio and attitude that sealed the deal. The company has a "no nonsense" "no bullshit" approach to doing business. The company is based out of India and they have a 10 person office in Silicon Valley.
Zoho is a remarkable company. They have out maneuvered all the usual suspects such as Microsoft, Google, and Salesforce at their own games. Not too long ago, the company turned down a takeover offer from Salesforce. Zoho is an example of the new Web economics at work. The company hails from India, has never taken venture funding and has a ten person operation in Silicon Valley. Yet, if you look at its suite of products you would think it has a Fortune 500 company backing it. The company employees 600 engineers, developers, product managers, and technicians in India that develop and build its products. As a result, that's how the company supports GE, Swisscom (the AT&T of Switzerland), and other large customers. The entire operation has been boot-strapped and today, the company generates revenues of $40 million a year from all its divisions and makes a profit of $1 million a month.
It's a remarkable company indeed. Just look at their homepage and you can see how broad their portfolio is. Their product suite is divided into two categories, Production & Collaboration and Business Apps. Production & Collaboration is free and includes the standard word processing, spreadsheet and presentation apps along with a bunch of others. The Business Apps. is where they make their money however and IMO GM saw some value there. The department specific apps like Zoho People and Zoho Invoicing cater to activities specific to the department like HR or Purchasing in addition to the standard productivity tools like spreadsheets and word processing.
Looks like these guys are not out there to make a quick buck rather they want to build their brand and hang in there for the long run. You don't see that too often these days.