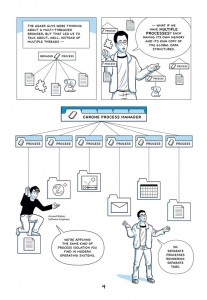 Google went live yesterday around mid morning with its Chrome browser and this has been the buzz for the last 24 hours. If you were like me waking up to the news yesterday morning the blogosphere was already inundated with opinions and posts. Seems like everyone and his/her uncle had an opinion or something to say. Now 24 hours later the first reports are coming out after people had a chance to download and give it a spin. Walt Mossberg has his two cents here and even the BBC is weighing in. While all the pundits and "experts" are chiming in - some relevant and others not so - the real difference between Chrome and the other popular browsers is really not what you see visually but rather what's underneath the hood. According to the official Google blog they're approaching this architecturally "from the scratch" and I don't think they are kidding. The best place to get a quick overview of the architecture is here - the comic book.
The comic book does a pretty good job illustrating what's underneath the hood and you don't need to be a geek to comprehend it - well maybe a semi-geek!
Under the hood, we were able to build the foundation of a browser that runs today's complex web applications much better. By keeping each tab in an isolated "sandbox", we were able to prevent one tab from crashing another and provide improved protection from rogue sites. We improved speed and responsiveness across the board. We also built a more powerful JavaScript engine, V8, to power the next generation of web applications that aren't even possible in today's browsers.
Right around page 4 it gets pretty interesting when they start talking about the "Chrome Process Manager" a.k.a "sandbox manager". The main problem with the current crop of browsers is that they are inherently single-threaded (there are those who will argue this point). Therefore typically multiple threads are spawned for each tab thus sharing the same memory space and global/static resources and rendering the tabs asynchronously. The problem with the multi-threaded approach is if something crashes - a piece of javascript code for example - the whole browser ends up freezing or crashing.
Apparently Google is addressing this by leveraging the multi-process architecture commonly implemented inside operating systems . So when something freezes or crashes the browser "keeps going" with the other tabs unaffected since each tab is its own process and has its own memory space and copy of global/static resources. Actually you can see this in "action" by going to the Windows Task Manager - if you have a dual monitor drag the task manager to one and open Chrome on the other. As you open up new tabs you can see a new "chrome.exe" process for each new tab. The trade off of-course is more memory consumption upfront but in this day and age I guess that's not much of an issue given the relative cheapness of memory.
I played with the browser a little bit and it definitely seems snappy including opening up multiple tabs. I think this has definitely reignited the browser wars. However I don't think Google wants Chrome to be the de facto browser as much as they want their concept of a browser to be the standard. So if a competitor comes out with a browser that addresses their requirements …
… the web had evolved from mainly simple text pages to rich, interactive applications and that we needed to completely rethink the browser. What we really needed was not just a browser, but also a modern platform for web pages and applications, and that's what we set out to build.
then they would have won the "war" regardless.