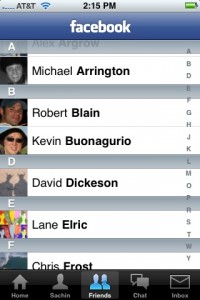 It has been over a month now since the iPhone App Store opened coinciding with the release of 3G. Many of us have downloaded, installed and played with a bunch of apps since its inception and I'm sure people have opinions on what their favorite apps are. IMO the most useful app to date is FaceBooks native or client app. I thought their web app was good but this one just blows the rest of them to smithereens. First and foremost the app is well designed and you feel that your "social graph" is literally in your hands and only a finger tap away from communicating with your friends. You can call, chat, email, and message your friends from one nice little package. You won't ever have to use the stock Phone app again except for checking your voice mail and assuming all your friends have entered their contact info into their profiles. Simply tap on the Friends tab and you are presented with a list of your friends. Click on a friend and it takes you to their contact page where you can call, email, chat or send a short message. Of-course the Cocoa Touch interface enables all of this and as I have said before the app developer has to try really hard to design a bad app.
However for me the most important aspect of the app - and this holds true for the web site as well- is the real potential for eliminating email altogether from the social graph - something I would very much like to see. I like FaceBooks built in messaging system which allows you to have short and concise conversations with one or more people. The native phone app incorporates this feature rather nicely - just tap on the "envelope" at the bottom to go to the inbox where you can compose new messages or reply to existing ones.
The Chat service is nice but not a killer feature IMO. For one thing you have to be in the app to utilize it so you never know if someone is trying to chat with you unless you're logged into the app. I think it's nice to have but it's not truly "instant" unless you're in the app.
There is room for improvement. According to the FaceBook Blog …
The first version of Facebook for iPhone is just a glimpse of the future. For instance, the iPhone has the ability to find where you are located, and we are looking for ways to let you opt-in to share your location and discover nearby friends. We're developing this and several other exciting new features that we'll release in the coming months.
This is definitely a must have app if you're a Facebooker and own an iPhone. Totally useful and a really cool app. It will only get better IMO.