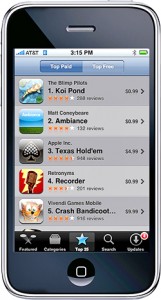 The buzz on the blogospere this morning was Steve Jobs's WSJ interview where he talks about the apparent success of the iPhone Apps Store. One month after the launch of the Apps Store there have been about 60 million downloads albeit a huge chunk of them free. Paid downloads raked in around $30 million in revenues which is not bad although I'm not sure how many paid apps were downloaded. A typical iPhone app at the Apps Store may cost anywhere between .99 cents and $9.99 but I don't think Jobs reveals the exact number of paid downloads in the WSJ article. Needless to say judging solely by these numbers there is no doubt this thing is an overwhelming success. It especially underscores the fact the iPhone is now a fully fledged platform and developers are comfortable investing in it. It was also a pretty good (and a no brainer) strategy to allow "free" apps as well because it not only keeps the momentum going but it also lets developers figure out the SDK and come up with creative apps without the pressure of "making money".
If sales stay at the current pace, Apple stands to reap at least $360 million a year in new revenue from the App Store, Mr. Jobs said. "This thing's going to crest a half a billion, soon," he added. "Who knows, maybe it will be a $1 billion marketplace at some point in time."
If Jobs is being a little too optimistic too soon remains to be seen. It's been only a month since the Apps Store has been in business so there is a good chance that a large chunk of the downloads are probably "curiosity" downloads especially the free ones. Om "GigaOm" Malik asks the question…
The big question about the Apps store is whether downloads are going translate into actual and sustained usage of these apps.

Downloads Yes, Usage - Maybe
I think it's a valid question but I don't agree with his analysis. At the moment usage may be questionable because both users and developers are trying to figure out their "needs". I think this is where the free apps come into play because it allows developers to get comfortable with the platform and put it through its paces so to speak. The "curiosity" downloads will gradually dissipate and so will the "blah" apps IMO and users are going to be downloading apps that have a utilitarian value to them. IMO the fact that the Cocoa Touch UI is probably the most intuitive user interface to date I don't think there is going to be a shortage of users actually using the apps. The key here is simplicity and Cocoa Touch abstracts out the complexities of gesture based event handling and simplifies the user experience. In other words developers have to try really hard to design an app that will not be intuitive and easy to use.
The GigaOm post also makes the point based on analysis by Pinch Media …
… that people are using the apps for just under five minutes at a time, on average.
Well that's the idea - unlike desktop apps where a user could spend hours - you don't want a user spending too much time on mobile apps. For one if a mobile app takes more than 5 minutes to use the user will most likely lose interest. Given the size of the device the attention span of users is minimal and the apps have to be simple to use. Take Shazam for example - you fire the app, hit "Tag" and in a few seconds you have your answer.
IMO the quality of the apps at the App Store will only get better with time and users will definitely use them.