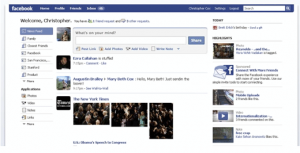 The big story on the blogosphere today is Facebook's announcement regarding upgrades to their existing feature set. Most notably the home page, profile pages and activity streams are getting a huge makeover on March 11. Reading MZ's blog it's hard not to notice the obvious. Yep, Twitter. Real time message broadcasting that goes beyond just your immediate circle of friends.
Starting today, we are announcing new profiles for public figures and organizations. Once called Pages, these new profiles will now begin looking and functioning just like user profiles. Just as you connect with friends on Facebook, you can now connect and communicate with celebrities, musicians, politicians and organizations. These folks will now be able to share status updates, videos, photos or anything else they want, in the same way your friends can already. You'll be able to keep up with all of their activity in your News Feed. This means that you can find out that Oprah is reading a book backstage before a show, CNN posted a breaking story or U2 is working on a new song, just as you would see that your friend uploaded new photos from her trip to Europe.
Those of us who Twitter intensively know all to well that there is no distinction between a profile and an organization or fan page a.k.a public page. You can follow President Obama or Shaquile O Neal the same way you follow your buddy Joe Smith. When you get the updates there is no separate "area" for celebrities or organizations. Obama's updates (tweets) are lined up right below Joe Smith's. Facebook users on the other hand have to explicitly "join" a public page such as an organization or a fan page which is distinctively different from the profile page of their friends. So what's the big deal here that would prompt Facebook to "follow" (no pun intended) the Twitter model? Recently tons of celebrities, politicians, public figures and the like have discovered the power of real time message broadcasting. A large percentage of these public figures and celebrities use Twitter because of the ability to broadcast in real time. And their fans who are also on Facebook are using Twitter to follow them and Facebook wants that traffic back on their site. They are now going to make it easy to connect and communicate with celebrities just as easily as your own circle of friends. They have also lifted the 5000 friend limit and the homepage is also going to contain a bunch of filters so users can control the huge influx of data.
So are they going to give Twitter a run for their money? I think most of the users on Twitter like the simple and uncluttered interface. Facebook in spite of the upcoming redesign will still be cluttered and at the end of the day FB will still be a social networking site and not a microblogging service like Twitter.