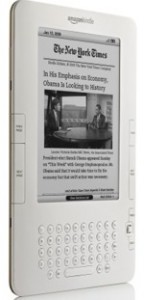 Here we go again! Kindle-mania is back albeit a little subdued, perhaps given the harsh economic times we're in right now. In any case there was no shortfall of opinions and comments on the blogosphere. So what exactly did Bezos & Co roll out that is different from the first go around back in November '07? Well for starters the device is really sharp and sleek looking. Check out the images and videos here. They got rid of the clunk-factor and apparently the device is incredibly thin and light and is very comfortable to use. The resolution is also greatly improved with advanced eInk capabilities for 16-color grayscale and faster page refreshing. This is always a good thing since all you can do with this device is read so any improvements in that department will be welcomed. Longer battery life, more storage and a faster UI are all good improvements without a doubt. It also reads text back to you which could be an annoying feature depending on you point of view.
So what hasn't changed and remained a status quo? The price for one - the device is going to set you back about $360. Given the current economic climate I wonder how many people are going to click that "Buy" button on Amazon.com? However IMO the biggest shortcoming is the lack of WiFi on the device. Every smart device coming out these days is WiFi enabled so I just can't understand what the thinking was. You're going to be tied to Sprint's EVDO called Whispernet - albeit you don't need to subscribe - and if you're in an area without Sprint 3G coverage you will need to drag out the wires to download content.
Back in November '07 when everyone was touting this as the iPhone for books, I said in this post …
… with Kindle the dynamics are slightly different. Yes we will be able to access books like we have never been able to before. Sitting on a beach you could download a paper back novel in under a minute. No doubt that aspect is revolutionary but the underlying issue is the average reader is going to have to learn how to use a totally new interface to read the content. The experience is different, instead of paper now you have this electronic device that delivers the content. For tech savvy readers this might not be that big of a deal but the average consumer of books is not that tech savvy. In fact they might actually be intimidated by a device such as the Kindle.
Do I still feel the same way? Well the fact is since Novemeber '07 eBook software on smart phones have increased and while I'm not sure what the exact numbers are it's probably safe to say that people are going to be slightly apprehensive. It's a standalone device - albeit a good one- that cannot be used for anything else but reading. I think the key factor is content. In their press announcement today Amazon said "Kindle 2 will also sync with a range of mobile devices in the future" suggesting that perhaps their focus is really on eBooks and maybe the Kindle is just a device to temporarily help proliferate the electronic content. Time will tell!