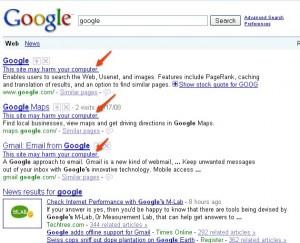 For approximately an hour this morning between 9:30 and 10:30 am EST if you were googling, chances are that you may have seen pretty much every site marked as malware and "potentially harmful to your computer". I was actually on Twitter around 9:45 and people were reporting the problem on all browsers - #googmayharm. The blogosphere was also abuzz with the news.
Apparently the problem was human error … someone checked in the latest and greatest updated malware list with the URL value as "/" which is a wild card for "all" URLs. Here is how the Official Google Blog explained it …
What happened? Very simply, human error. Google flags search results with the message "This site may harm your computer" if the site is known to install malicious software in the background or otherwise surreptitiously. We do this to protect our users against visiting sites that could harm their computers. We maintain a list of such sites through both manual and automated methods. We work with a non-profit called StopBadware.org to come up with criteria for maintaining this list, and to provide simple processes for webmasters to remove their site from the list.

We periodically update that list and released one such update to the site this morning. Unfortunately (and here's the human error), the URL of '/' was mistakenly checked in as a value to the file and '/' expands to all URLs. Fortunately, our on-call site reliability team found the problem quickly and reverted the file. Since we push these updates in a staggered and rolling fashion, the errors began appearing between 6:27 a.m. and 6:40 a.m. and began disappearing between 7:10 and 7:25 a.m., so the duration of the problem for any particular user was approximately 40 minutes.
Couple of observations …. The fact the whole world (literally) is talking about this shows how significant Google is in our lives and on a Saturday morning to boot. Was there any real "harm" done? .. of course not - I can't speak for the engineer who checked in the offending file however!
This was definitely an embarrassment for Google, not because of the human error itself but rather they couldn't nail the cause of the problem right away. They initially blamed the third party malware collaborator StopBadware.org a non-profit organization for giving them bad data before realizing their mistake.
In any case it's not the end of the world although it may have seemed like it for about forty minutes this morning!