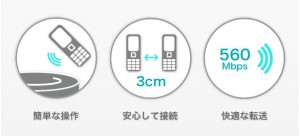 When it comes to short range data-transmission Bluetooth is the industry standard. However there is a new wireless protocol that's making waves - especially in the consumer electronics space - called Transfer Jet. If you thought Bluetooth's range was short this one will amaze you - we're talking an inch or less!. As David Pogue explains in this NYT piece …
At the Toshiba booth at the Consumer Electronics Show a couple weeks ago, a rep showed me a new technology called Transfer Jet. I sure hadn't heard of it, but apparently it's an upcoming industry standard. Toshiba, Sony, Canon, Casio, Kodak, Nikon, Olympus, Samsung, JVC and others make up the engineering committee working on it.

It's yet another wireless technology, like Wi-Fi or Bluetooth, but it requires even less power and has even a shorter range—along the lines of one inch.

Yes, I know: an inch? What good is wireless with a range that small?

Once you see the demo, you'll get it. You bring a camera over to your computer and touch them together—and a whole memory card's worth of photos are transferred in a few seconds. No wires, software, password, pairing, none of that. Just touch 'em.

It's the short range, in fact, that lets you get rid of all that red tape; it's not very likely that a bad guy could intercept your file transfer without your knowledge. He'd have to be the size of an atom.
I can't wait for this to become mainstream and widely available. Here is a demo by a Toshiba rep at the recent 2008 CES. Very cool!