Apple co-founder and CEO Steve Jobs issued an open letter this morning outlining the "real" reason why he decided to skip Macworld. Apparently he has some sort of hormonal imbalance which is the cause of his recent weight loss and not a cancer recurrence speculated by many. So the bottom line is he is not in any sort of grave danger.
As many of you know, I have been losing weight throughout 2008. The reason has been a mystery to me and my doctors. A few weeks ago, I decided that getting to the root cause of this and reversing it needed to become my #1 priority.
Fortunately, after further testing, my doctors think they have found the cause — a hormone imbalance that has been "robbing" me of the proteins my body needs to be healthy. Sophisticated blood tests have confirmed this diagnosis.
Just a few weeks ago on Dec 17, 2008 Apple announced that Jobs won't be Keynoting the high profiled Macworld citing political reasons rather than his pancreas. Now with todays open letter to the world some folks are miffed - especially shareholders - because Apple was less than forthright in coming out with this information. On the day of the announcement Apple's stock fell almost 5.5% for the day due to speculation that he was gravely ill.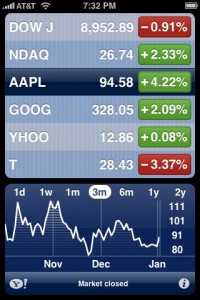 It's pretty obvious Apple's board wanted to keep it under wraps because they really didn't know what was going on with his health at the time. There is a good chance they feared the worst given his history with pancreatic cancer. The board is ultimately responsible to the shareholders and had they made some sort of announcement at that time the markets would have reacted negatively to the news perhaps more drastically than the 5.5.% drop. IMO they made the right decision to keep it under wraps until they found out what the results of the test were. The problem of-course was he was scheduled to attend Macworld and there was no "graceful" way for them to pull out of it hence all the hoopla.
The good news is he is apparently okay albeit he needs treatment for his condition and AAPL was up today by 4.22%.
So let's move on!