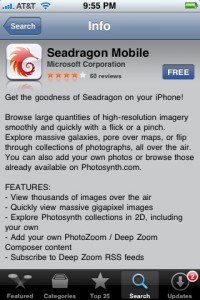 Well it was bound to happen sooner or later and finally it's here - no not Word or Excel but Seadragon Mobile, an iPhone app was published to Apple's AppStore by Microsoft Live Labs last night. The app is free and I had a chance to download and play with it for a few minutes today. It's basically a demo app of Live Labs photo display/Photosynth platform. Users can access high resolution images - in gigapixels - with extreme clarity and without the need for high processing power or bandwidth. The underlying technology essentially stores several resolutions of an image and based on the user's zoom level downloads only the version of the image pertaining to the zoom level.
So the question is why iPhone? Apparently the iPhone is one of the few devices out there right now with an on-board GPU (graphics processing unit) according to Alex Daley, Group Product Manager at Live Labs.
"The iPhone is the most widely distributed phone with a (graphics processing unit)," Daley explained. "Most phones out today don't have accelerated graphics in them The iPhone does and so it enabled us to do something that has been previously difficult to do. I couldn't just pick up a Blackberry or a Nokia off the shelf and build Seadragon for it without GPU support.
The iPhone of course competes with other devices that run Microsoft's Windows Mobile platform so I'm sure they're finding themselves in a little bit of a bind here. There is also speculation that other groups within Microsoft have iPhone applications in the works.
Perhaps Microsoft is recognizing that the mobile app market is going to grow exponentially in the next few years - thanks in part to Apple's app store model which is now being adopted by Google (for Android Apps) and RIM (for Blackberry apps).
In any case it'll be interesting to watch how this relationship develops and I'm now curious if a ZunePhone is imminent in the near future!