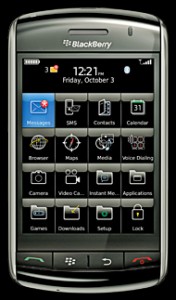 The blogosphere is abuzz today with the announcement of RIMs new BlackBerry Storm. Initial reports from bloggers and journos alike are touting this as the "true" iPhone killer. IMO however RIM is looking at this from another angle and that is they don't want to lose their existing customer base to Apple - specifically the business/corporate user. It is no secret that Apple is trying to penetrate the work place and companies like IBM already have plans to support iPhone in the near future. With Storm RIM is trying to accomplish two things. First they have officially entered the touchscreen market and secondly they now have an exclusive U.S carrier in Verizon. However that's where the similarities with Apple end.
There is a reason why we haven't seen a massive migration of existing Blackberry users towards the iPhone. The typical BB user is an email/text "junkie" and the keyboard is the tool they use to satisfy their so called addiction. Typing on glass is cumbersome to say the least and if there is one thing I hate about the iPhone it's the fact that it does not have a tactile keyboard. Besides the robust email infrastructure, IMO this is one of the reasons why BB users are hesitant in switching over to the iPhone.
Apparently RIM has addressed this issue by implementing a tactile touchscreen for the Storm. Unlike the iPhone if you want to type on the virtual keyboard or select a button you have to actually "push" the button. The clicking mechanism - RIM calls it ClickThrough - underneath the screen provides just the right tactile feedback when the user pushes a button thus giving the sense of actually "pressing" an analog button. RIM did not have the luxury to drastically change their navigation methods. Previous BlackBerry users had to utilize the scrollwheel to navigate to an object to select it and then click on the scrollwheel to take action. On the touch screen the user has to flick to navigate to an object, then tap to select it and finally push/press to take action. They had to make sure the behavior and event handling were as close as possible to the previous BB's to mitigate potential backlash from the users.
The user response remains to be seen but I think the differentiating factor is no doubt the tactile keyboard and RIM may have succeeded - for awhile anyway - to hold on to their existing user base. It will be interesting to see how Apple responds to the BB Storm. The bad news is for Apple to implement a tactile keyboard will most definitely require a hardware refresh.